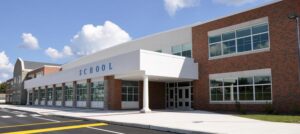 More so than ever – schools depend on analog two-way radios for in-building and on-campus communications.  Despite advances in digital technologies schools are discovering dead spots in signal coverage across their facilities.
Whether schools use analog radios, or newer digital and cellular ones, they need them to work reliably campus-wide!  Communication is critical to coordinate bus pick-ups, ensure campus safety,  and more – during both standard and emergency operations. For newer schools the materials used during construction can greatly reduce the ability of radio signals to reach a many areas of campus buildings.  The safety and security of students and faculty is critical.  Anything that hinders communication is not only unacceptable but a violation of fire/safety codes.
Even if a school has a private radio network or private LTE network, they often still need additional systems in place to distribute signals evenly across their facilities.  SpeakEZ Communications designs and installs Bi-directional Amplifiers (BDA) and Distributed Antenna Systems (DAS) that enhance cellular and radio coverage across the entire building/campus. This is especially important in areas that often have poor reception like maintenance rooms and stairwells.  SpeakEZ Communications has your IN-BUILDING COMMUNICATION SOLUTIONS. We are dedicated and focused on public safety. Nothing is more important to us than the safety of children in school, their teachers/staff AND the brave First Responders who put themselves in harms way during emergency situations.
Bob King
Business Development Director
SpeakEZ Communications
(832) 302-8756